Design Drawings
All designs are produced using the latest AutoCAD software, and conform to all the latest Eurocodes, legislations and guidelines, including BS EN 12811-1, BS EN 1991-1-4:2005 Eurocode 1 and TG20
Supporting Calculations
All designs come with a full set of supporting calculations. These take into consideration the loading conditions on the structure, such as wind and snow loads, live load, and dead load. Calculations are produced using a combination of Microsoft Excel, and beam analysis software.
Designers Risk Assessment
The identification of hazards and risks are completed via a risk assessment, at the design stage. A clear and accurate, site specific risk assessment, is completed to identify, and minimise all potential hazards and risks to all involved, from site operatives, through to the general public.
Third Party Design Checking
Design checks can be carried out for various clients, including Network Rail. BDS Ltd comply with Network Rails latest standards and protocols, in the form of F001, F002, F003 documents. BDS Ltd can also carry out third party design checks in other areas, adhering to the categories specified in BS 5975:2008.
Site Visits & Scaffold Inspections
BDS Ltd will attend sites nationwide. Whether this is to ascertain information for a scaffold design, carry out an inspection, or to advise on a project's feasibility.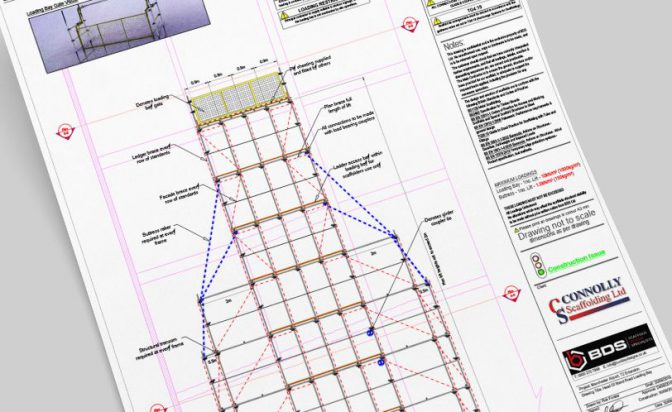 Our experience, knowledge, reliability and determination provides a service that fulfils all our clients criteria, and sets us apart from the competition.
View all projects